AFL Trading Card MASTER Team Card Collection-ST.KILDA-2008 AFL Champions 9316818001827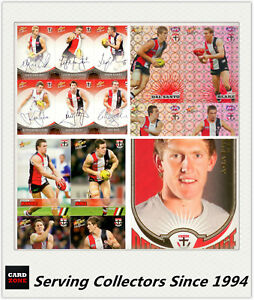 ---
AFL Trading Card Master Team Collection-ST.KILDA-2008 Select AFL Champions
This item for sale is the ST.KILDA  FULL AFL CARD COLLECTION of 2008 Select AFL Champions Trading Card Series-- YES, it is the club's 2008 Select AFL Champions card COMPLETE collection with NO MORE CARDS TO CHASE. This purchase has saved your valuable time and shipping charge and given you the great satisfaction you well deserved.
As you know, there are millions of AFL trading cards in the market today and chasing for particular cards sometimes can be very frustrating and time consuming especially when the card series was released a few years ago. Furthermore, some new card collectors may not have the detailed information of how many cards involved in the card collection of a particular past AFL cards series.
CARD ZONE is now creating such a CLUB CARD MASTER COLLECTION to deal with all the issues above--LEAVE the hard job to us, you need to do nothing, save your time, save your shipping charge and above all, provide a clear card collecion scope that can award you with the desired satisfaction a card collection should offer. We try to make the CLUB CARD COLLECTION as fully compiled as we can ( of course, there are some AFL card series simply not be able to do so due to certain ultra rare cards in that series).
SELECT AFL CHAMPIONS TRADING CARDS SERIES is a 10-AFL card series from 2006 to 2015. We are listing all the MASTER CLUB COLLECTION of SELECT AFL CHAMPIONS CARD COLLECTION (2006--2015) and you are now purchasing only ONE Club's Master Card Collection of ONE card series.
All the cards in this card collection are mint condition unless otherwise mentioned.
 The item you are purchasing is 2008 SELECT AFL CHAMPIONS CARD SERIES includes every card in this table
2008 SELECT AFL CHAMPIONS ST. KILDA

ST. KILDA BASE TEAM SET (12) 08 CHAMPIONS

$8

ST. KILDA HOLOFOIL TEAM SET (12) 08 CHAMPIONS

$22

ST. KILDA FOIL SIGNATURE SET (6) 08 CHAMPIONS

$32

SK25 STAR SKETCH CARD L. HAYNES 08 CHAMP.

$12

SK26 STAR SKETCH CARD L. MONTAGNA 08 CHAMP.

$12

MASCOT GEM CARD NICK RIEWOLDT 08 CHAMPIONS

$35

DRAFT ROOKIE DR9: BEN MCEVOY 08 CHAMPIONS

$25

Total

$146
 

 

In the 2008 Select AFL Champions series:

HOLOFOIL PARALLEL cards depict the same players as those in the base set, but printed on holographic card stock and in different action shots; The AFL STARS SKETCH CARDS (1 : 9 pks) is a 32-sketch card subset. 2 cards per club. The BLUE FOILED SIGNATURE CARD TEAM SET is PRINTED facsimile Signature card team set, 6 cards per team set; DRAFT ROOKIE CARDS ( 1: 36 PACKS) features the unsigned Rookie Card of top 17 Draft Picks of 2007 National Draft.

 

 SUPERSTARS MASCOT GEM Card (1: 36 pks) are acetate plastic card stock.Very hard to find these days.

 

For more information about your Club's Trading Card Collection , please check "AFL COLLECTOR CARD PRICE GUIDE CATALOGUE 3RD EDITION (1988-2017)" (available at our Store)

http://www..com.au/itm/NEW-AFL-COLLECTOR-CARD-PRICE-GUIDE-CATALOGUE-1988-2017-EDITION-3-700-PAGES/292432177094?hash=item441650e7c6:g:WX4AAOSwZA1acm3n

 

for official Club's Football Card Album, please look the following link:

http://www..com.au/itm/AFL-CLUB-COLLECTORS-TRADING-CARDS-ALBUM-Inc-10-Pages-ST-KILDA/291631954351?hash=item43e69e79af:g:EdUAAOSwv-NWYozJ

Shipping : Registered post both domestically and Internationally.